The purpose of this challenge is not to win prizes or compete with each other; rather, it's a way to build team camaraderie and inspire us to explore new themes and stretch our creative muscles. And for the winner, it means a little extra attention from an adoring public! Winners will be posted on the blog and on Etsy.
So stop by the EAST Challenge page on Flickr
http://www.flickr.com/groups/earthpathchallenge
to see pictures of the entries, and then go vote at the EAST blog
http://earthpathartisans.blogspot.com
You can also see many of the entries in the members' shops by visiting the team shop's favorite items page.
http://earthpathartisans.etsy.com
Voting ends July 21st.
We'll see you there!
The EarthPath Artisans Street Team (EAST) is having a Gypsy Design Challenge! Team members have taken their interpretation of what the word "Gypsy" conjures up for them, and created new pieces in a variety of media.
Current Mood:

creative
I took Isis to the vet, this is third day so nails are okay - have grown over quick so dr said no problem now. She checked Isis very thoroughly and offered to give her pain meds for two days but said that Isis didn't really show any signs of pain right now, and we didn't want to add to her distress, so no meds.

Vet was glad I had been talking softly to Isis a couple of times an hour, and also did Reiki on her without touching her.

Vet said she is very stressed out still, but seems to be coming around (I agree).

I asked what I could do and vet said to keep talking to her, let her come to me and let Isis make the decision when she wants to socialize again.

So far has only used litter box that first night, then to pee once last night, but she did eat some food during the night so hoping for more stuff in litter box soon. Didn't realize how many times a day she comes to me demanding (howling) that it be cleaned immediately - little pain in the ass, how I miss that! So since day before yesterday litter box has been used three times in all, and once she ate food. Something is definitely wrong, she is in shock from something.

She is still not letting me touch her, if she even thinks I am going to touch her she shrinks away from me. Talking a little bit now, more of a mewling chirp but at least it is something, a couple of times she even cried a bit.

This morning she leaned against my leg while I was still in bed and if I moved my leg she clomped back down on it with her bum - very good sign! So while I was lying there, no way was I going to move with Isis leaning on me, I entertained myself with visions of shaving the heads of all the females in that grooming store.

Isis and I both thank everyone for your support and well wishes (from other chat rooms too), and joining us in our anger against the rough treatment of one of our pets♥♥♥ Oh, and the lousy grooming job too.

Current Location:

Winthrop MA

Current Mood:

distressed

Current Music:

none - TV Animal Planet for Isis
I just called groomer - couldn't stand it anymore, Isis is not moving hardly at all and will not let me touch her.

Well I told the person answering the phone (groomer's mother) she got upset and said the stomach being shaved is a "sanitary cut" and that they groom a lot of cats and always have. I said the shaved stomach was unacceptable as I didn't ask for that, I had asked for a trim around the genitalia only - she replied with groomer yelling in the background that it is standard to do that on cats, that the groomer would have to call me back to explain it as she had dogs to deliver right now, so I told them I showed photos of the mess on Isis' stomach to other groomers for their opinion, and was told that was not very nice of me at all to compare groomers like that. Then she started to yell at me about how it is a standard cut etc..... I never even got to the nails or the fact that Isis is not acting normal.... I told them I would not have a yelling match with them and hung up on them.

So I went to check Isis' litter box, has not been used since during last night, no food was eaten today, and she did drink water from the bathtub faucet (her favorite thing). The silence from Isis is deafening.

I just called the vet, and have an appt tomorrow morning - nothing is open for tonight (I think vet has gone home) I told assistant the whole sad story and she agreed something is not right, that Isis should have bounded back by now therefore is severely stressed out, said maybe they were rough with her, and with her paws hurting, best she be seen by vet....so 10:30 tomorrow morning I take her in to be checked. She also asked me who the groomer is.

I am truly thankful I did not go to groomers place to talk to them, really and truly thankful. I would be in jail right now if I had - I was so angry
I had to wait a few minutes to be able to call the vet office.

Breathe and relax, breathe and relax - aaaaaaahhhhhhhh - aaaaaaoooooooommmmmmm.
Current Mood:

worried

Current Music:

none - TV Animal Planet for Isis
She usually howls and talks and chatters to me. It took until 9pm last night for her respiration to get back to normal, isn't talking except for tiny chirps when she catches my eye, she huddled in the corner of the couch and finally threw up around 11pm last night (and litter box not a pretty sight if you know what I mean). This morning for first time she let me touch her toes without crying, but didn't like it and pulled away from me - they really hurt her. Playing toesies is one of our games. I clip her nails weekly and brush her daily, no knots or matts on her. No need to groom her down and do a lousy job besides. Still not talking this morning and keeps needing to touch me like leaning against my leg here, or lying in my lap, and I am not used to this silence from her.... my poor baby.
Last night I almost burst into tears seeing her suffering mentally and physically. And I paid $65 plus tip for this? She was already crated when I went to get her and they said she was really well behaved - HELLO?- she is a ragdoll they are non-aggressive, but I know Isis well enough where she would have reacted to having her nail bed cut. I didn't know about all of this until I got home - plus her little bumhole wasn't cleaned properly.
I am composing a letter to them, I do not trust myself to go and talk to them in person. I am a very nice and passive person but not when one of mine is hurt.
BEFORE (photo I took for Tracey's birthday):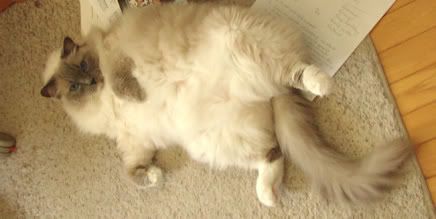 AFTER:
SAD EYES (this morning):
A new groomer moved into town (Precious Pets, Winthrop MA), I went in twice to talk to them about grooming my Isis. So yesterday I took my Isis to the groomer yesterday and they groomed her like a dog!!! I am soooo angry, They did a very poor job of it. They clipped her nails down to the bed, most of them bled, so now she cannot climb up her condo until they grow again, plus they are painful. Her lovely soft furry tummy got a botched job of shaving like a dog but it didn't work with her fur. Cut her long hair to barely 2 inches long. She has this lovely ruff around her neck like a lion and it was thinned out and trimmed way down where it is close to her face so she doesn't have "chipmunk cheeks" anymore. I would be just really upset about the cut (they were supposed to just brush her out, but it will grow back eventually), but I am absolutely enraged about traumatizing her.
Current Location:

art studio

Current Mood:

pissed off

Current Music:

quietyly playing rock
June 27th

Just wanted to show you what Isis does so I trip over her. This way she can howl at me as if I was killing her or something! She does hate to have her photo taken, and I wanted to get this shot because it is laid back, needed it for a birthday wish for a friend to have a laid back birthday and if she couldn't Isis was doing it for her - LOL Well I wasn't quick enough so got the "look" and her little front paw bunched up as it does when she wants to pummel me, we do "box" once in a while, it is a game she likes to play.
Current Location:

art studio

Current Mood:

amused

Current Music:

classical - I won!
June 26th
Well I have always known my cat is a little different - she tries to help me paint by tapping the canvas with her paw, grabbing the paint brush when I am holding it and "helping" me to paint - LOL. Wakes me up in the morning by turning on the radio - older model Bose that has the buttons on top so she presses them until she gets a rock station.

Well we have this ongoing musical war, I like classical, new age, opera etc..... my cat Isis loves rock in any shape or form. Whenever I have my music on she howls (part Siamese) not to sing along but trying to drown it out - now I know where the phrase catterwailing (sp?) comes from. Last night she was snoozing on the rug in the art studio in front of the desk, this is so I will trip over her and gives her an excuse to pretend I am trying to kill her she howls so loud.... anyway, I was in the living room channel surfing on my new HD TV to see what the extra channels were like. One was "Unplugged" and the Black Crows were playing, the minute they came on Isis came flying into the living room, jumped up onto her condo, looked at me with loving eyes, chirped at me, and promptly lay down and went to sleep to her favorite kind of music.

So what was a good slave supposed to do? I could not stand listening to it, so went to my studio where the computer is and spent some time browsing the internet.

This morning was looking out the window and chatting about the birds and everything she could see out there. Sometimes I wish she would keep quiet for a bit - LOL. Thankfully right now she is sleeping - whew!

Still going strong and not smoking. I don't think about it very much anymore, so won't be doing a journal on it as much as I thought I would.
Current Mood:

amused

Current Music:

none right now - truce reached
I am posting this in my journal for two reasons - to keep track of my progress and maybe help others to think about their smoking habits. I had been a closet smoker for years and am now quitting. Had smoked for over 30 years in all. When I didn't smoke I sucked on nicotine lozenges. I don`t want my paintings to have the smell of smoke on them. Too much work and time to sneak cigarettes and I hate the smell of them anyway.
When I started smoking it was the `cool` thing to do and no information about harmful effects. Smoking is not cool never was.
To me a craving is where I am hanging by my teeth on the edge of a cliff (and caps are not as strong as real teeth) ready to fall into the clutches of the nasty relapse.... managed to climb back in time so far using my techniques.
An urge, something that would be really nice to have (like favorite ice cream etc or your example of a cute guy) but can be put aside and ignored.
Take care of and baby your quit it needs nurturing for a long time....
I agree craves and urges are the same `notion` this is just semantics - I say for me I look at them differently as the crave for me is a more intense feeling where I feel I would do a lot to satisfy it. An urge is not as strong a feeling therefore am able to ignore it better.
I don`t get either often now - I think they are scared of me for a bit as I told them both to go to hell in a handbasket and if they couldn`t find one I would supply them with it.
I do not allow myself to romance the habit - this is all about me, everything I am doing is about me - I feel like a drama queen but there you have it - me me meeeeee! If I romanced the smoke I might find it seductive and I like that feeling, so I don`t think about it - I breathe deep instead - I stretch and reach for the stars - I meditate - and I recognize I can never become overconfident or arrogant that `I have this beat no problem`.
I mostly indulge in the good energy of knowing I am starting to feel better, tired but what the heck that will pass, my heartbeat is steadier, my blood pressure is down, I have no qualms about terminating irritating phone conversations - but best of all is that little bubble of joy inside me that glows knowing I am committed to my quit and determined to replace that dirty habit with good habits that make ME feel great. And the rest of the world will just have to take care of itself for a while without me managing it.
Plus I smell sooo good! Even my cat likes me better, and her fur no longer stinks. I treasure my quit and will always do so.
Of course at my age I can do almost anything I want and young people will say I am just that `eccentric` old cat lady and ignore me..... mmwaaaahaaahaaa
June 21, 2008
And I thought it was just me and maybe I was overreacting... no I wasn't. After 18 days I had relapsed for two days, but closed the door, turned off the phone and dug deep inside myself, wrote things down, was honest with myself... etc.

When I opened the door, it was to accept only positive people into my home, turned on the phone and only answered calls to people who were supportive. I stayed away from toxic people and situations - and during that first week, instead of focusing on craves or urges focused on how to replace them with something else that is positive.

This is an ongoing process, so far successful, I feel comfortable in my quit, I love the way I and my cat smell, also the apt.

Summer is here and love eating raw fruit and veggies. Even eat my corn raw if it is good corn.

Yesterday I felt well enough to go out for a little while, was planning on buying a frame for a painting and some undies at Victoria Secret as they said they were having a sale. Well, I went out and got myself a french style pedicure and manicure, went to DSW (great discount shoe store of top brands) and bought six pairs of new summer sandals, and a funky sun hat. While doing this my laundry was being washed and folded by Laundromat. After shopping I went and picked up all my clean clothing then exhausted with pain went home to take meds that I cannot take when driving. Never did buy the frame and undies - LOL.

I feel good! Until I sat down here to write this didn't realize until now that I didn't think of smoking at all today. Aaaah life is truly good, and I can do all this 'cause I am blonde and love chocolate!
I love the feeling of control I have and I put all these memories away to be taken out now and again to remind myself why I will never smoke or use nicotine lozenges again. Am now working on day 23 since the relapse.
Have had a high level migraine since Sunday June 15th and today is Sat 21st. Meds do give me a few hours here and there of relief but that does require morphine and percocet plus migraine meds. The injections help but not much with this one. Not the first time one has lasted this long so should be ending soon. On Mon I go to have nerve oblation in both sides of my neck and that will go a long way in relieving triggers for me. Had a bad one for 7 days end of May then a 3 day one starting June 8th, so old cycle is starting up again. BUT I am not smoking and that is a big thing, because smoking helps to constrict the blood vessels and that is what the meds do, so it actually helps, can only smoke when pain level is down but it was enough, however, no more of that, will take an extra pill instead with dr's okay.

I will not stop smoking because of the awful things that might happen to me, etc. I will focus on the fun and positive things, saving all the money now (have enough sandals for this year) for a luxury vacation next year, somewhere that I can paint outside with my new french easel. I can do all this 'cause I am blonde and love chocolate!
Have been resting as my back hurts and so does my head - LOL - tough to get old and creaky.
Here is the painting - I will be finishing it in the studio:
I went, I painted and had a wonderful time! The weather was perfect and I was at the end of the beach with two other artists, the rest of the painters were in the sandy beach area with more people and it was hotter there. For my first time out in years my location was perfect with two serious painters for company.
Current Mood:

excited
My Grand Luxe French Easel arrived today - yippee I am excited - just in time for me to sign up for the plein air seascape painting group on Saturday, the local art assoc I belong to is doing it.

I couldn't sign up before this because didn't have an easel to work with that is light enough for me to carry - this one is heavier than they said but not by much. I am sooo looking forward to this - haven't been able to do this in years.

Will show photo of what I do (if it comes out okay that is) heh heh. Will have my camera with me so will have pics of the day. Weather is supposed to be lovely, haven't checked tide chart yet so don't know what the surf will be like. Hoping for some interesting clouds over the water.....
Current Mood:

cheerful


Has been raining here for days, so yesterday my cat was lonesome, followed me around everywhere whining, she just wanted to cuddle. So on the couch we went covered with blankets and watched Animal Planet - please - no laughing - she really does watch this channel - LOL. Her favorites shows are about large cats and orangutans.

At least today it is not raining, just cloudy and promises to be a good painting day.
Still painting on same commission, It is coming along nicely now, has gone past the ugly stage and beginning to come together. Taking a long time being a 24x30 canvas. My client asked to see it and though I don't usually show clients my work in progress, she loved it! Also gave me permission to enter it in a local juried art show at the end of this month....yay!
Current Mood:

creative