Current Mood:

relaxed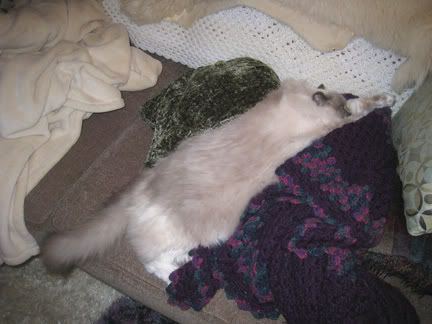 My cat Isis has finally settled into our new home, she is quite comfy and so am I. Time to get the art stuffs organized so I can begin painting again.
Current Mood:

cheerful
Current Mood:

tired
Here is latest painting done with my favorite ocean atmosphere.
Current Location:

Studio

Current Mood:

creative
So if you would like a print or note cards - check out my Etsy store in the next few days.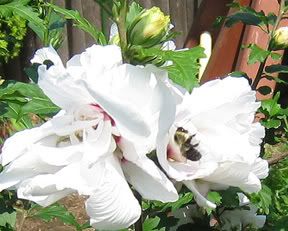 A new photograph I took this morning, I am quite pleased with how it turned out. Will be making prints and note cards from it....
Current Location:

Studio

Current Mood:

optimistic


WELL, today this wasn't the case, she kept going under the sheet then on top to make a nest of the blanket, gave herself a wash, decided to go underneath again, shoved my arm out of the way so she could get comfortable. I thought I was all set, and getting nice and drowzy and lo and behold! she has to move AGAIN. Wanted to get on the other side of me on top of the blanket etc, that didn't satisfy her so under the sheet she went again, pushing me this way and that so she could really stretch out her legs, so once again I was ready to fall off, and she changes her mind again, curved into my stomach and when she does that I am to put my arm around her. She went to sleep finally, and I was lying there wide awake by this time.... so I gave up, no cat nap for me, but for cat - yes!

So I left this little mound under the sheet and snuck away. Now I have to go over my sheets with the hair remover brush before I go to bed tonight, and I didn't even get to rest never mind nap!
I decided to take a cat nap this afternoon, and Isis also decided she would take one with me, which is usually fine, she snuggles up and snoozes until I wake up. She is so soft and comfy I love to nap with her.
Current Mood:

tired
oil painting
11x14 gallery wrapped smooth texture cotton canvas
Will be going on sale within a week or so.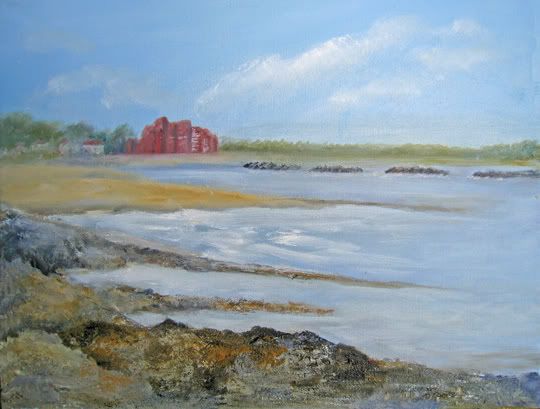 New seascape I recently finished:


I took out cable from front of hard drive, otherwise I can't move it as cable is not really long enough, dragged it out and nothing was disconnected. I checked everything, got down on my hands and knees under desk, and lo and behold, just thought to check my power surge thingy, and sure enough the switch had been turned off. Of course when I started to do this Isis flew out of the room and starting washing herself in the hallway trying to look innocent but still close enough to the door so she could watch me. I swear she was laughing at me!!!!! I see no way I can keep her from my switches, she turns on the radio all the time for her rock music, and now she is turning off the switch on the power surge - I guess when she sees a switch she just cannot resist tapping it with her very flexible and cute paws!

She has been playing with my pole lamp too, I have to lean it against the couch now, the screw in part is stripped, probably from her pushing at it all the time. My other one was not as sturdy and it finally fell apart Isis pushed it over so many times. So this one is obviously succumbing to her attentions also, and it is a heavy one but obviously where pole joins base is not really cat proof - LOL.

Earlier I put out my paints, palette and had my easel with painting on it ready to go - before I finished computer stuff, she had the tinfoil on the floor and I could see a white paw tapping around edge of drawer from underneath (it is my new french easel) looking for stuff to check out! When I told her no, she attacked my foot, wrapped herself around my ankle and gave me a little love bite on my bare skin, and least I think it was a love bite and not a warning. Obviously feels if I am not going to paint then she will. In the past she had one orange paw and one green one, wasn't happy about the cleanup of those paws but that hasn't stopped her from being very interested in the painting process.

I am going to make my dinner now, and realize I will have to paint when she naps just like I did when my children were small, because lately she keeps putting her fingers (toes?) around the paint brush that I am holding, she just wants to help. She has a wide spread of her fingers and they are also quite long, so she has a grip on her.
My Isis gets in so much trouble - she is just too curious. I was on IM with my daughter this afternoon and everything died, computer, printer, half of cable box - everything! Isis had been "snuggling" at my feet under the desk as she sometimes does.
Current Location:

studio

Current Mood:

silly

Current Music:

rock station for Isis
The purpose of this challenge is not to win prizes or compete with each other; rather, it's a way to build team camaraderie and inspire us to explore new themes and stretch our creative muscles. And for the winner, it means a little extra attention from an adoring public! Winners will be posted on the blog and on Etsy.
So stop by the EAST Challenge page on Flickr
http://www.flickr.com/groups/earthpathchallenge
to see pictures of the entries, and then go vote at the EAST blog
http://earthpathartisans.blogspot.com
You can also see many of the entries in the members' shops by visiting the team shop's favorite items page.
http://earthpathartisans.etsy.com
Voting ends July 21st.
We'll see you there!
The EarthPath Artisans Street Team (EAST) is having a Gypsy Design Challenge! Team members have taken their interpretation of what the word "Gypsy" conjures up for them, and created new pieces in a variety of media.
Current Location:

studio

Current Mood:

busy

Current Music:

none


Drama queen is back! YAY!!!!!!! And is blaming me for everything, I can tell - she is just too funny even if it is true that I never should have taken her there. With the brushing going on here I guess she wants to make up for the three days she wouldn't let me near her. Intestinal tract functioning normally now and she is eating and drinking. Keeps washing her paws more than usual so I think that it is possible they were pinched too hard when being clipped, because they are all healed but she is not jumping around or getting up on her condo yet, so looks like they must feel tender to her, but getting much better. So life is good for her again - and for me!

Isis is doing very well today. And yes, she is driving me crazy again. Back to brushing routine. Yesterday she let me know it is all my fault, she had been lecturing to me every few minutes, meowing and howling and chirping with head swinging up and down and back and forth, was even pacing the floor at one point while complaining.
Current Mood:

happy